What is Rakeback?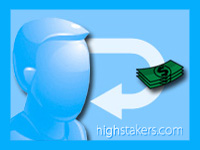 If rakeback is such a wonderful thing, you're probably wondering why you haven't heard about it before. In every form of online gambling, so much attention is given to deposit bonuses that some players may overlook the longtime value of other programs. In online poker, most players are savvy enough to make good use of their automatically accumulating loyalty points, but a surprising number of amateurs are completely oblivious to the concept of rakeback.
Because poker rooms deduct their share of every pot (aka their rake) automatically, many poker players are totally unaware of how much they've paid into this process. When you don't even know that you've been paying your dues, it's hard to expect anything back. But you can get something back for all the rake you've paid in, and that incentive is appropriately called "rakeback."
Every online poker room handles rakeback in a different way. Some poker sites automatically offer rakeback to players of a certain VIP level. The higher your level is, the higher your rakeback percentage is. Other online poker rooms offer their members cash back but not under the title of rakeback. Then there are the poker sites that don't directly offer their members any rakeback or cash back incentives. Regardless of which type of poker room you currently patronize, we've got good news for you: there's almost always a way to get rakeback.
On this site, we explore the rakeback programs offered by the industry's most popular poker rooms. If you happen to prefer a site that doesn't offer rakeback, we also offer advice on how you can locate and use other affiliate programs to score some cash back. Every serious poker player knows that at the end of the day it's not about how many hands you've won or lost, it's about your bottom line; understanding how rakeback works and ensuring that you're getting your share is an easy way to improve that number.