GSN's High Stakes Poker Show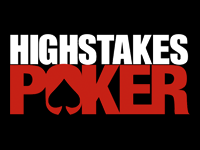 High Stakes Poker
When the first episodes of High Stakes Poker aired on the Game Show Network (now more commonly referred to as GSN) in 2006, they transformed the way that many casual poker fans looked at the game. Up until that point, televised poker had strictly been tournament coverage, but the new show revealed another intense aspect of poker - the ring game. Furthermore, it gave aspiring amateurs an up close and personal look at what it truly takes to be a professional poker player.
The poker industry is full of memorable personalities, but High Stakes Poker makes an obvious effort to choose competitors that create excitement by playing with intensity and skill. Of course the show also frequently mixes things up with eccentrics like Mike "The Mouth" Matusow. To be scouted for the show is a high honor in and of itself, though the ability to earn hundreds of thousands of dollars in a single session no doubt contributes to the high demand for an HSP seat. To date, only five pros have appeared in all six previous seasons of High Stakes Poker: Antonio Esfandiari, Barry Greenstein, Doyle Brunson, Eli Elezra and Daniel Negreanu.
Initially, High Stakes Poker had a minimum buy-in of $100,000. Currently, the minimum buy-in is $200,000 though some pros have upped the stakes by buying in with as much as a million. Players that bust out before the end of their session can rebuy with a minimum of $50,000. What many first-time viewers of the show fail to realize is that every chip on the table is as good as cash at the end of the episode. In fact, HSP players can save time by simply playing with cash.
To ensure that the action on High Stakes Poker always lives up to its name, the show also enforces three constant blinds. At $300, $600 and $1200 they make stealing the blinds an especially tempting move. Remember, though, that since the game of choice is no limit Texas Hold'em, the pots can get as big as what's available on the table. To date, the largest pot on high stakes poker was $998,800. The hand came down to Patrik Antonius and Sammy Farha. Since both players agreed to run the turn and river four times, and Antonius won three of those runs, the pot was split.
Because most of the HSP competitors like and respect each other, it's not uncommon to see the players strike a deal, offer to reduce a pot, or agree to run a draw several times. This happened very notably in the fourth season when Guy Laliberte offered colleague and opponent David Benyamine a break by allowing him to withdraw an all-in bet that would have taken the pot to a record-setting $1.2 million. But with a lot of money on the line, the High Stakes Poker players aren't always so composed, as is evidenced by the newest season's catch phrase, "It's anyone's bet who will lose it all or just plain lose it."
One aspect of High Stakes Poker that makes the game feel more accessible to everyday players is the fact that the seasons are filmed inside public poker rooms. The first season was filmed at the iconic old Golden Nugget in Las Vegas with later seasons traveling to other notable poker rooms around the state of Nevada.
High Stakes Poker - Season 7
The last new episodes of the sixth season of High Stakes Poker aired in May of 2010. Filming for the seventh season was delayed to avoid conflict with several major tournaments, but production will be underway soon. Previous seasons of HSP have begun in February, but as of yet the seventh season schedule has yet to be announced. GSN did, however, recently announce that the Poker Channel has inked a three-year deal giving it exclusive rights to broadcast the show in Europe. To reflect the changing landscape of professional poker, the seventh season of HSP is expected to incorporate a new group of younger up-and-comers.