Sub Menu
High Stakes Poker Players Profiles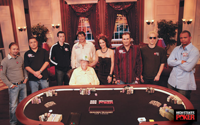 Player Profiles
It's hard to believe, but at one point in their young lives every legendary poker pro was just a regular man or woman with regular lives and regular ambitions. While some learned to play poker around the family table, just as many got a late start on the game. For example, living legend Doyle Brunson actually got a master's degree and worked as a salesman before discovering his true calling as a poker pro.
While 20-something college dropouts seem to be taking over the game, it's seasoned players like Phil Ivey, Daniel Negreanu and Patrik Antonius that continue to claim poker's top payouts whether they're playing online or live, at a high stakes ring game or in one of the world's largest tournaments. Even online phenomenon Tom Dwan has been honing his card craft since he was a teen.
Trace each pro's big wins back to the beginning - back to their first major cashes and beyond - and it's easy to see that even they had to battle their way to the top. Some pros' careers, like that of notorious 2003 WSOP Main Event winner Chris Moneymaker, seem to be just a single brilliant flash in the pan. But every seat at the High Stakes Poker table has been earned through years of blood, sweat, tears and ultimately consistent success. These players are the elite few at the front of a pack that numbers in the millions. It's hard work, but it pays well.
In our player profiles, we give poker fanatics an inside look at how each of these once regular people were transformed into some of the game's most formidable pros. Read about their origins, their career-defining wins, and what's next for the most fear-inspiring players at the high stakes tables.